8 Reasons Why Every Hospitality Business Should Have A 3D Virtual Tour
Have you ever struggled to make travelers notice and choose your holiday rental on the vast market? No surprise – there are over 90 000 hotels and similar establishments in Norway! Let us show you a solution that many holiday rentals do not use yet and that can give you a competitive edge!
We mean an immersive, 3D virtual tour for hospitality businesses that allows travelers to walk around your holiday rental as if they were there in person. In other words, if you've ever heard the expression "a picture is worth a thousand words," you can imagine how much a 3D virtual tour is worth! Let us explain the benefits for the hospitality industry.
3D Virtual Tour For Hospitality Business in Norway
1. Do you want to increase engagement by 300%?
With a 3D virtual tour for hospitality, potential guests spend more time walking around your guest house or cabin. 
How does your business benefit from it? Visitors have time to connect with the space, imagine their kids playing in the living room and their partner chilling in front of the fireplace… they will remember it better and are more likely to book! It will also help them make an informed, confident decision for their vacation.
2. Create the best booking experience and get a competitive advantage
Give travelers an immersive experience, let them understand the layout of the property, connect with it, and feel more confident to book it!
Thanks to a 3D virtual tour clients will understand the plan of the property – for example where to find the owners or how to pick up keys.
Just recently, we arrived at a guest house in Norway and we spent 30 minutes trying to find the host. We called him (with no success) and ended up knocking on random doors around the property to get information… oh, how we wished we knew in advance where to look!
3. How about making your clients happier and more confident?
It's not a secret that going on holiday is a significant investment for travelers. And what is more, guests have high expectations. After long weeks of work, they want to relax in the best possible environment and feel happy.
But how can you make sure the clients are happy?
Give them complete information and avoid false expectations.
First of all, thanks to a 3D virtual tour for hospitality, they can explore the property, and get familiar with it. Guests who visit a place they know, feel calmer, more relaxed, and… basically, happier 🙂
They can also make sure it meets all their criteria – some will need a big kitchen for cooking, others a big living room for the kids to play, or a big garden to enjoy the sunshine. Through Matterport 3D virtual tours, they can verify it. You avoid false expectations, disappointment, and negative ratings. One unhappy client will share his bad experience at work, with his friends and family. Luckily, it works the other way too! Let clients make a good decision, make them satisfied with their stay, and get great recommendations. One happy client can get you hundreds of new ones! Can you afford to lose potential clients?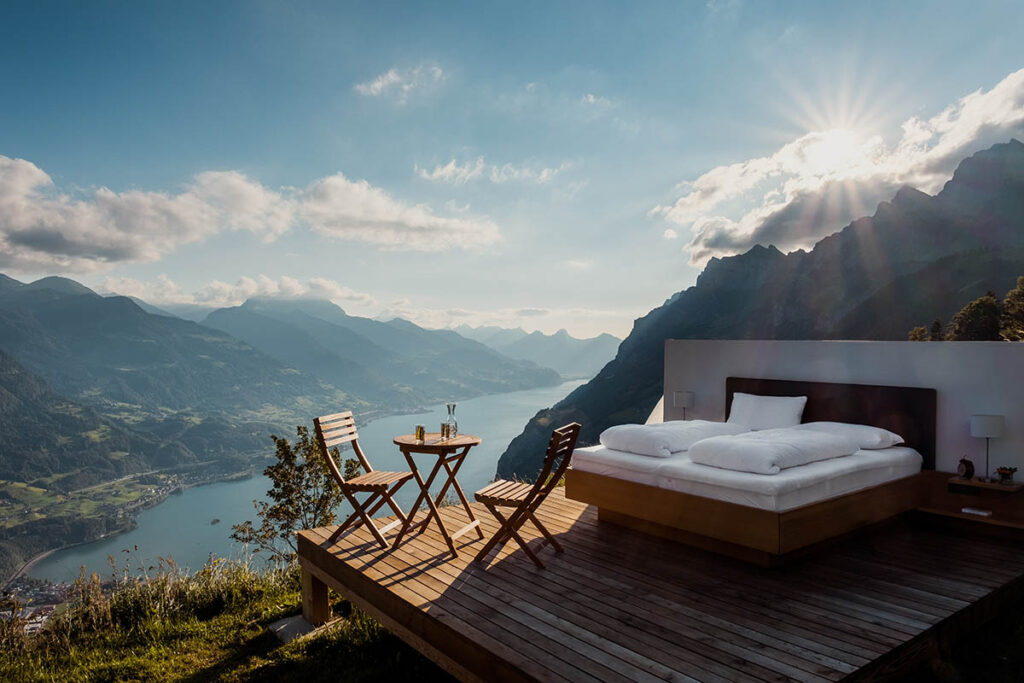 4. Looking for ways to increase the number of bookings by 14%?
3D virtual tours proved to increase conversions to bookings by as much as 14%! Stop worrying that your holiday accommodation is empty for too long and improve revenue. 🙂
5. Show higher in search results & get more clients from Google
Google rewards engagement. The longer people stay on your website, the greater your chances of ranking well in Google search results. Thanks to a 3D virtual tour, visitors will spend more time reviewing your property's offer than your competition. In addition, you may include keywords in the title, links, and your address in the tour.
We also add the 3D virtual tour in Google Street View and present your business there. Thanks to that, visitors can jump directly from Google search to exploring your amazing property 🙂
6. Would you like to save time and answer all questions in advance?
Do you feel like you're losing too much time answering the visitors' questions? The 3D virtual tour helps with that, too! We can include extra information in the tour using Mattertags. They look like a pin, and when clicked, show text, photos, or videos. Would you like to show visitors where to find pots and pans or how to increase the heating? Let's embed a video! Is the shower tricky to use and counterintuitive? Let's add a description. Would it be good to show clients where to find more toilet paper? Let's include that, too 🙂
It's a great feature that answers the most common questions and allows you to add extra keywords for search engines, too.
7. Managing multiple holiday rentals? Provide better customer service.
If you manage one guest house or cabin, you probably know it by heart. But if you have multiple holiday rentals under supervision, it's hard to remember all of them. Through 3D virtual tours, you can see the property precisely when visitors have issues or ask questions via e-mail or on the phone. You see the property on a virtual tour, you know better what they need and assist them in resolving any issues they may be having. You can also easily show travelers around the property.
8. Go even further and use VR and AR technologies.
3D virtual tours are ready to be used with Virtual Reality (VR) and Augmented Reality (AR) technologies, which may be another step in the development of your holiday rental!
3D Virtual tour opens new possibilities.
Hospitality business owners constantly need to look for opportunities to grow. You've just found one. 
Would you like to try it for your business?