5 reasons why shopping malls managers need a 3D strategy
As shopping malls reopen their physical sites, they must be aware that the global coronavirus epidemic has irreversibly changed tenants' & consumers' behaviors and expectations.
Clients have learned the importance of knowing items without touching them, and they want businesses to deliver educational and enjoyable online and in-store purchasing experiences. Tenants want to see the location without going there physically, and they need an adaptable space that can easily adjust to changing customer needs. What are the technological trends & reasons for shopping malls managers to implement a 3D strategy?
3d strategy for shopping malls. Why is it needed?
1. New way potential tenants find and review locations
Potential tenants spend weeks or months looking for, researching, and visiting shopping malls to find the best spot for their business. However, 3D technology has the potential to revolutionize all aspects of reviewing shopping malls both for tenants and managers. Clients may view the shopping mall design and layout from the comfort of their own homes thanks to 3D technology. It saves time for both parties and shows potential tenants you adopt new technologies and adjust to changing customer needs.
2. 3D technology becomes a new marketing tool
3D technology is a relatively fresh addition to the property market, having originally appeared in the gaming industry before finding other applications. Virtual reality in shopping mall management can assist stimulate the interest of both end customers and tenants.
In this respect, virtual reality is an extremely successful form of advertising, allowing shopping mall managers to create virtual tours, which offer something different from the standard bank of images the competition uses. This strategy is already proving popular, particularly among millennials, with more than 80% saying they'd be happy to see 3D virtual tours and digital floor plans while looking for a spot for their business. And that's a great reason to have a 3d strategy for shopping malls
3. 3D technology improves conversion rates
3D technology has been enhancing sales and conversions by at least 10% over traditional techniques. Tenants are more willing to rent a location that offers virtual tours and customers love 3D configurators.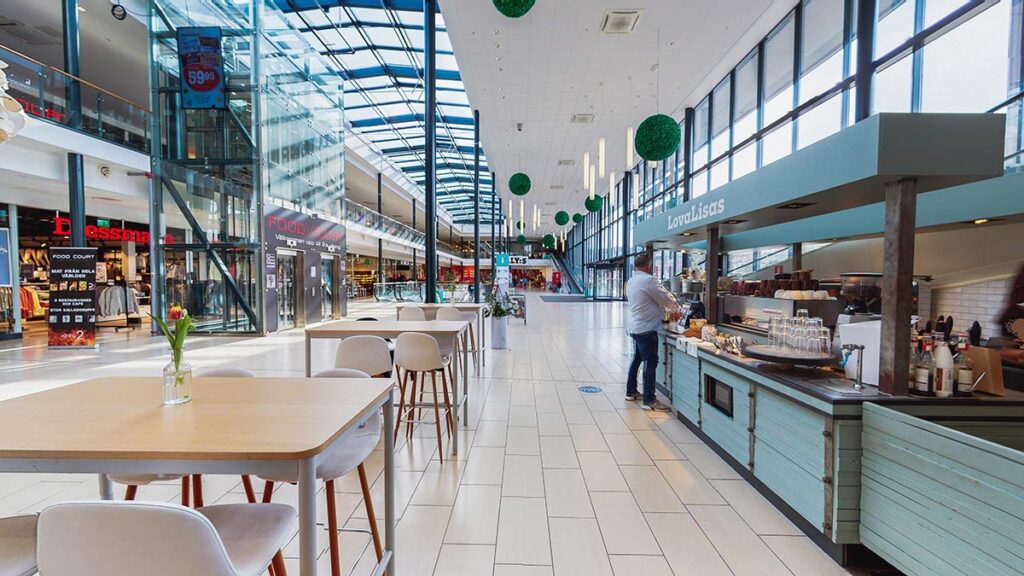 Consider the following scenario: A tenant looking for a perfect spot for their business visits a 3D digital showroom to view how it looks with various designs and decorations. He can easily change the layout to see if the spot meets his requirements. And it all happens online – there is no need to modify the physical space before the final decision.
Another scenario: A customer looking for a bed visits a showroom to view how it looks with various covers, pillows, tables, carpets, lamps, and so on. It's not an option in the physical world. But if she has access to a library of lifelike 3D graphics, or a configurator that allows her to flip through all design possibilities, she can simply customize her bedroom, better understand the products, and feel more comfortable with the purchase decision.
4. Keep up with competitors
Providing clients and tenants with 3D technology enriches the experience of visiting your shopping mall, exceeds their expectations, and leaves a great impression. Without it, you risk staying behind and losing clients. Big shopping malls around the world, like Stromstad in Sweden, are already taking advantage of the benefits 3D virtual tours bring. So don't fall behind!
5. Getting & understanding crucial data to make better decisions
3D technology may provide real-time data on the property such as exact dimensions and measurements of the place. Potential tenants would be able to not only view the projection of their business in your space but also view the surroundings, and measure the space, allowing them to make a more informed decision.
Benefits of 3D technology for shopping malls:
Saves money & time,

Improves digital marketing,

Provides a high level of visualization for tenants and clients, 

Gives a competitive advantage over malls that don't use it,

Creates emotional bonds with the mall,

Allows tenants & clients to virtually customize the space as much as they need,

Enables easy contact with international tenants with no need for physical meetings,
…and more!
Are you ready to take your mall to the next level & try 3D technology?
Let us know by filling out the form so we will get back to you ASAP!
*We are based in Oslo but we operate in all of Norway!
Also, check: