3D Virtual Tours for Artists: A Game-Changing Marketing Tool
Artists face many challenges when it comes to promoting and selling artwork. From finding the right galleries and art fairs to reaching potential buyers and collectors, the process can be time-consuming and difficult.
However, with the 3D virtual tours, artists now have a powerful tool that can help them sell artwork online, generate more income and reach a wider audience.
Selling Art in the Digital Age: How 3D Virtual Tours For Artists Can Help You Succeed
1. Show your art in a highly realistic and engaging way
By creating a 3D virtual tour of your artwork, you give potential buyers or collectors a realistic sense of what your work looks like and how it fits into the space. You'll be able to invite your audience into your virtual exhibitions or guided 3D art tours!
Are you worried your artwork is too complex to look well in a photo? That should not be a problem. 3D virtual tours are highly accurate, realistic and can be made for any type of artwork, including paintings, sculptures, interactive installations, and more. We will discuss your doubts during a free consultation to make sure you will be happy.
2. Promote your art better with a 3D virtual tour
3D virtual tours for artists can be used for marketing of artwork in a number of ways. For example, you can post or embed the tour on your website, blog, interview, or share it on social media platforms such as Facebook, Twitter, and Instagram. It's also possible to email it to potential curators or buyers. This makes it easy to reach a wider audience and generate more income from your art.
3. Generate interest and build your client base using the 3D virtual tour.
By posting the tour on your website, blog, or sharing it on social media, you will reach a wider audience. This can result in interesting discussions on your art & make more individuals, as well as art galleries aware of the what you do.
In addition, by sending the tour to potential buyers or virtual art galleries, you'll be able to generate more interest around your work and most probably secure collaborations and commissions for the future.
4. Selling more artwork online thanks to a 3d virtual tour
Selling artwork online is a challenge. But with an immersive way to show, promote and generate interest – you will get more sales and increase income! With a 3D virtual tour, online art sales go up!
It's also easier to sell your artwork in person, or at art fairs and galleries. You don't have to be limited to a short period of time in the physical gallery. Thanks to the 3D digital copy of your exhibition you can make that short period endless and get in more people from other cities or even countries!
You never know who might love your art and might want to buy it. So don't limit yourself anymore with your virtual exhibition.
5. 3D virtual tours are easily accessible
If you have the time and skills, you can use a 360-degree camera and a 3D modeling software to create your own virtual tour. Another option is hiring a professional to create one for you. 
While it is possible to create your own 3D virtual tours, using a professional can offer several advantages. Professional reality capture providers like our team at VISCAN have the right experience, equipment and software to deliver high-quality, immersive tours which accurately will present the details and essence of your exhibition. We can also provide additional features such as avatars meetings / digital guiding tours, gamification, adding multimedia, branding, navigation menu, VR mode, virtual staging, adjust lighting and sound effects to enhance even more the overall experience.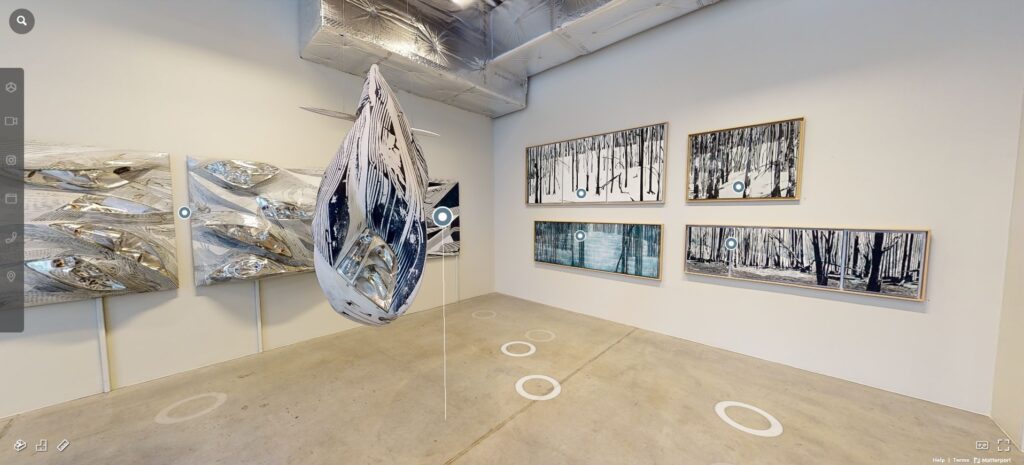 Additionally, virtual tour providers like us offer integration with Google Street View and other platforms, making it easier for potential audiences and collectors to find and view your art.
What is more, a virtual tour prepared by professionals includes precise measurements of the space. Thanks to that, anyone can easily understand which artwork or installation will fit a given spot without time-consuming manual measurements or questions, trials and errors. As a result, you will plan your next exhibitions easier and faster.
Furthermore, we can also provide analytics and tracking capabilities to help you understand how your tour is performing and make necessary adjustments to optimize results. Overall, using a professional virtual tour provider can help artists to showcase their artwork in the best possible light and increase their chances of generating more income.
With the help of a 3D virtual tour, you can take control of your career and increase your income, while also reaching a wider audience and building a loyal client base.
So, Are you ready to BRING your artwork to the next level?
Let us know by filling out the form so we will get back to you ASAP!
*We are based in Oslo but we operate in all of Norway!
Also, check: